July 9, 2023

Web Editor

0
Zardari, Nawaz meeting in Dubai not official: Kundi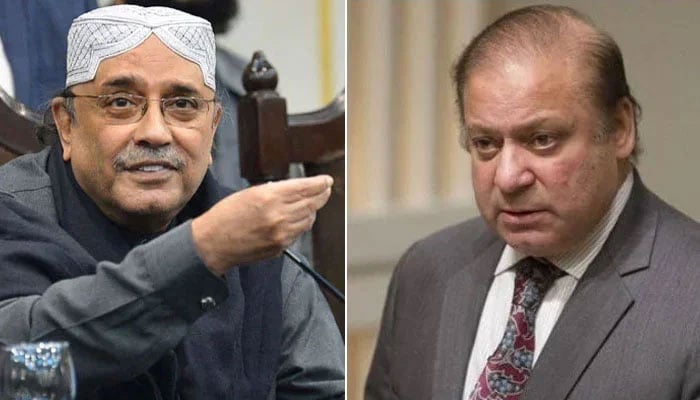 ISLAMABAD: Pakistan Peoples Party (PPP) Secretary Information and Special Assistant to Prime Minister on Poverty Alleviation and Social Security Faisal Karim Kundi on Saturday downplayed the meeting between former president and President PPP Parliamentarians (PPPP) Asif Ali Zardari and Quaid PMLN Nawaz Sharif in Dubai, saying that it was not an official meeting but it was a routine meeting and there was no discussion on seat adjustment.
"Anyway, there was a routine meeting in which the political situation in the country was discussed but it was not official. When two political leaders sat down, the political discussion was held. But if it was an official meeting, then the second tier of both the parties should be there to follow the decisions agreed in the meeting," he said while addressing a press conference along with PPP media Coordinator Nazir Dhoki here Saturday.
Faisal Karim Kundi said Zardari and PPP Chairman and Foreign Minister Bilawal Bhutto Zardari had a meeting with Nawaz Sharif and Maryam Nawaz Sharif in Dubai in which the political situation was discussed. "It was not an official meeting and there was no discussion on seat-adjustment," he said.
He said the PPP was ready for the elections and already started its election campaign with the Swat public rally. He said the tenure of the National Assembly is about to complete and elections should be held on its constitutional time, so that the political and economic stability could come. "Democratic system will bring political and economic stability," he said.
He said the PPP was also ready whenever the Election Commission conducts local government elections in Punjab and Islamabad. "We have started our election campaign from Swat for the general elections."
To a question on launching of Istehkam-e-Pakistan Party (IPP), Faisal Karim Kundi said they were not against any political party. "It will be known only after the Istehkam-e-Pakistan Party comes into the political arena by holding public rallies and people's response will tell its future," he said. He said two leaders of the IPP are part of the government as their secretary general was still a Special Assistant to PM. In a reply to a question on the IMF meeting country's political parties, Kundi said the IMF has started a series of meetings after the agreement with the government. "They had some concerns with the former government which violated the previous programme," he said. He said the Benazir Income Support Program has completed 15 years. This program was started to help poor women for their economic empowerment. Kundi said the Benazir Income Support Program (BISP), aimed at empowering the women, has been recognised at the international level. He said they were introducing new initiatives to facilitate the deserving families. Prime Minister Shehbaz Sharif yesterday inaugurated social protection accounts under which the beneficiaries will be able to open their bank accounts. The Special Assistant said that the budget of BISP has been enhanced to 404.2 billion rupees. There was an attempt in the past to eliminate the name of Benazir from this program which failed. He said 9 million poor women are getting relief money, accounts of these women will be opened in banks across the country and now poor women would be provided with Benazir cards. He said under the Benazir Kafaalat Programme, there were Rs7,000 per family and after a 25% increase, the quarterly stipend was now Rs8,750. Similarly, the number of children benefiting from the Benazir Taleemi Wazaif rose from 2.6 million in 2022 to 7.52 million in 2023. The Benazir Undergraduate Scholarship Programme awarded 82,000 scholarships in 2022, which increased to 92,003 scholarships this year. Additionally, he said 770,000 mothers and their children are currently benefiting from the Benazir Nashonuma Programme. The prime minister has inaugurated a social professional account, first through the post office. Money that was used to be given will now be transferred through banks.