August 23, 2023

Web Editor

0
Battagram incident: KP govt orders safety audit of all cable cars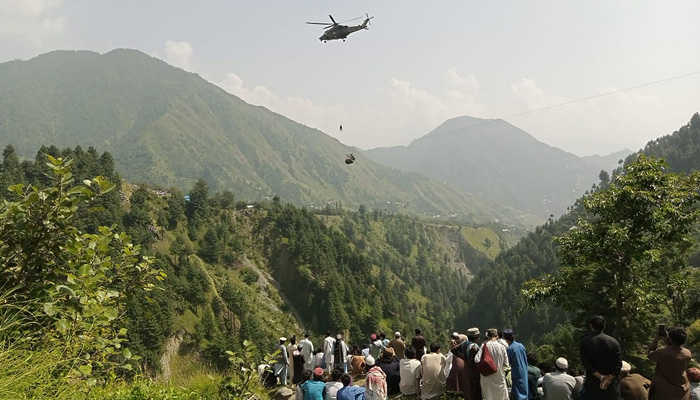 PESHAWAR: An inspection and safety audit of all cable cars installed in Khyber Pakhtunkhwa was ordered by the provincial government in the wake of the Battagram incident a day before, which left a stricken chairlift — with eight commuters trapped onboard for several hours — dangling 600 feet above the ground after two of its three cables snapped mid-air.
The directives came on Tuesday just hours after all the cable car passengers, including six school boys, were successfully rescued by the Special Service Group commandos of the Pakistan Army and zipline experts high above a remote valley in the district's Allai Tehsil.
While one child was rescued via military chopper and landed in safety after almost 12 hours as the sun began to set in the valley, the remaining were saved with during an on-ground mission with the chopper operation halted during nightfall.
Then rescuers used a cable, to keep the gondola from plunging into the valley, as a zipline to rescue the rest of those stranded late into Tuesday night.
According to fresh directives issued to all the deputy commissioners in KP, they are tasked to carry out a safety audit of chairlifts within their jurisdictions.
Immediate checking of chairlifts at all commercial, domestic and recreational places should be carried out by the provincial government, stated the advisory, adding that inspection of cable cars installed over rivers and canals should also be done by the relevant authorities.
The DCs have been asked to review the design, capacity and safety measures of all chairlifts and submit reports within a week.
It has also been made mandatory to get a No Objection Certificate from the district administration before the installation of cable cars.
Cable cars that carry passengers — and sometimes even cars — are common across the northern areas of KP and Gilgit-Baltistan, and are vital in connecting villages and towns in areas where roads cannot be built.
In 2017, 10 people were killed when a chairlift cable broke, sending passengers plunging into a ravine in a mountain hamlet near the capital Islamabad.