February 20, 2023

Web Editor

0
LHC gives Imran Khan 'last chance' to appear by 5pm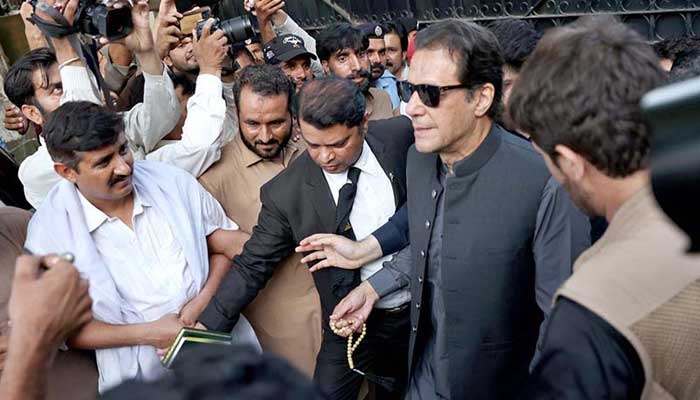 LAHORE: The Lahore High Court (LHC) gave on Monday Pakistan Tehreek-e-Insaf (PTI) Chairman Imran Khan a "last chance" to appear before it by 5pm today for clarification of the differing signatures on his affidavit and power of attorney documents.
The LHC had noted the discrepancy in the documents last week during the hearing of a protective bail plea of Khan, who was unwilling to appear in court due to security concerns.
The former premier had moved the court after an anti-terrorism court (ATC) in Islamabad cancelled his bail in a case related to alleged vandalism in countrywide protests triggered by his disqualification by the Election Commission of Pakistan (ECP) in the Toshakhana case.
Khan has been on bail on medical grounds as he convalesces from the bullet injuries he sustained in an assassination attempt in Wazirabad during a rally on November 3, 2022.
At the outset of the hearing, Justice Tariq Saleem Sheikh inquired where Imran Khan was as he was given time till 2pm to appear.
Khan's lawyers informed the court that there was a security issue but that the former premier would arrive "in a while".
"I am not supposed to resolve the security issue," the justice said before adjourning the hearing for a while again.
Before the hearing, Azhar Siddique, Khan's lawyer, told the media that they were not granted permission to bring the former prime minister's car to court premises.
The lawyer said PTI leader Senator Shibli Faraz had approached the LHC administration for the approval. He added that the legal team would consult the PTI chief after his request was rejected.
LHC summons Khan over differing signatures
On February 16, Advocate Siddique had submitted his power of attorney and affidavit on behalf of Khan who was directed to appear before the court in person.
After multiple adjournments and resumptions over Khan's failure to appear in court, Justice Tariq Saleem Sheikh had warned of issuing a contempt notice to the former premier or his lawyer over the differing signatures. He had also disallowed the withdrawal of the petition, despite the petitioner's insistence, till the resolution of this issue.
"You look at it right now. Someone tried to commit fraud, I will issue contempt of court notice to you or Imran Khan," Justice Sheikh had remarked before adjourning the hearing till today.