May 23, 2023

Web Editor

0
Gold starts week with small gain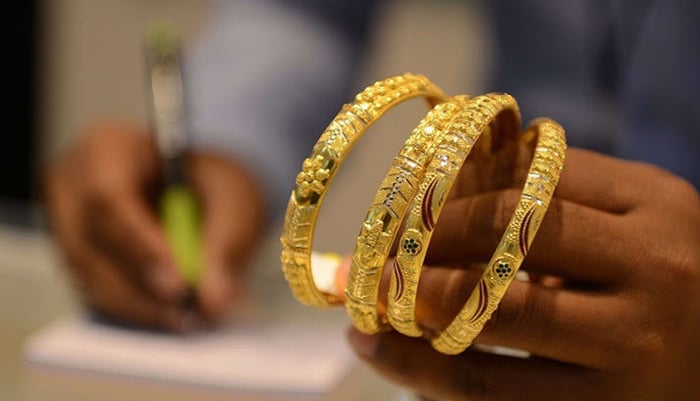 After a minuscule cumulative gain last week, the price of gold rose again in Pakistan Monday.
The rate of gold (24 carats) rose by Rs2,000 per tola and Rs1,714 per 10 grams to settle at Rs237,300 and Rs203,446, respectively, data provided by the All Pakistan Sarafa Gems and Jewellers Association (APSGJA) showed.
In the international market, the gold rate declined by $5 to reach $1,972 per ounce.
The rate of gold fluctuated in both the domestic and international markets throughout last week amid uncertainty surrounding the raising of the US debt limit.
If the US debt limit, which is currently capped at $31.4 trillion, is not raised, it could trigger the first-ever US default.
The domestic gold market has remained volatile recently due to several factors — economic and political turmoil, high inflation, and currency depreciation. People prefer to buy yellow metal in such times as a safe investment and a hedge.
The safe-haven bullion had reached an all-time high of Rs240,000 per tola on May 10 following increased political uncertainty after Pakistan Tehreek-e-Insaf (PTI) Chairman Imran Khan's arrest. It dropped later in line with the decline in the international rate.
The jewellers' body also said that local gold was "overcost" by Rs5,000 per tola in Pakistan compared to the Dubai bullion market. This means that, at present, the Pakistani gold market is more expensive than the world market.
Data shared by the association showed the price of silver jumped Rs50 per tola and Rs42.87 per 10 grams to settle at Rs2,900 and Rs2,486.28, respectively.