August 1, 2023

Web Editor

0
Toshakhana case: Imran turns to SC for stay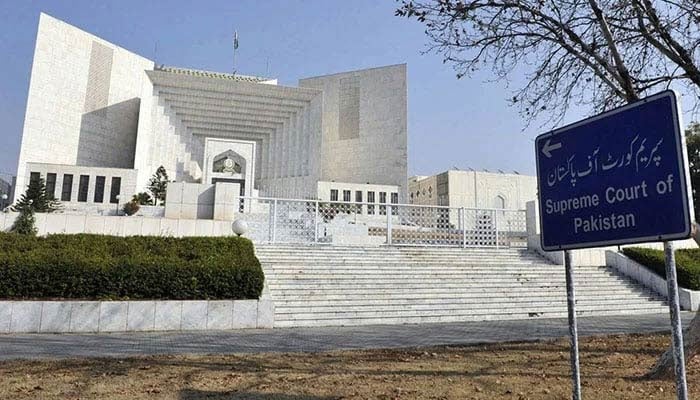 ISLAMABAD: Additional District and Sessions Judge (ADSJ) Humayun Dilawar Monday rejected a request for respite to record Section 342 statement of PTI Chairman Imran Khan and summoned him in his personal capacity in the Toshakhana case on Tuesday (today) at 9:00am.
Imran is striving to get the Toshakhana case trial stayed at all costs. Meanwhile, the Islamabad High Court (IHC) has fixed Imran Khan's appeal for a hearing on August 3, challenging the maintainability of Toshakhana criminal case.
The court also fixed other cases pertaining to the shifting of criminal cases to another court and seeking to stay the trial on the same date for hearing. The court also sought a report from the FIA on Facebook posts of the trial court's judge.
Chief Justice Aamer Farooq issued a written order regarding the hearing of a case against the maintainability of Toshakhana criminal case.
The order said the petitioner's lawyer had raised an objection against the trial court's judge and prayed for shifting the case against him.
It said the Facebook posts associated with the trial court's judge were presented before the court but the judge refused to accept them.
The IHC directed the registrar's office to send the matter of posts to the cybercrime wing of FIA and sought a report on the next date.
Further hearing of the cases would take place on August 3. Meanwhile, the PTI chairman requested the Supreme Court to suspend the ongoing proceedings against him in the Toshakhana case until a decision on his pending pleas, including the question of jurisdiction, before the IHC.
The petition for leave to appeal was filed by Barrister Gohar Khan under Article 185(3) of the Constitution against the July 27 order passed by the IHC chief justice on the criminal revision petition.
The PTI chairman submitted that it was prayed before the IHC that the proceedings by the trial court may be stayed till the question of jurisdiction was decided by it. However, the IHC had not even been noted in the said order, and, consequently, no stay of the proceedings of the trial court was granted by the IHC chief justice.
In his petition before the apex court, the PTI chairman has appealed for a stay against the recording of his statement under Section 342. He prayed the apex court that the ongoing trial before the District and Sessions Judge, Islamabad, Humayun Dilawar, should be stayed till the IHC issues its final decision on his pending applications.
The former prime minister contended that a decision on the jurisdiction of the court was necessary before the trial could start its proceedings. Meanwhile, it was learnt that the apex court had allotted the number to Imran's plea against the IHC order.
On Monday, Barrister Gohar Khan along with Shoaib Shaheen met Chief Justice of Pakistan Umar Ata Bandial in courtroom No 1, requesting for an early hearing on the petition. The chief justice, however, told the lawyers, "Let this be submitted first, then they may file an appeal for an early hearing."