August 6, 2023

Web Editor

0
Toshakhana case: What was PTI chief doing when police came to arrest him?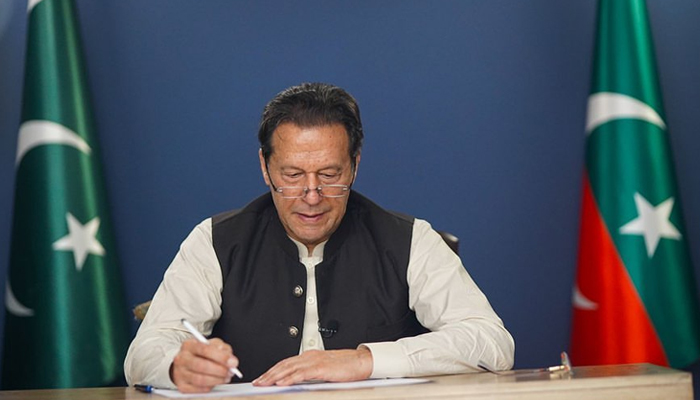 LAHORE: Shortly after a court in Islamabad found him guilty of corruption in the Toshakhana case Saturday, Pakistan Tehreek-e-Insaf (PTI) Chairman Imran Khan was arrested.
Additional district and sessions Judge (ADSJ) Humayun Dilawar ordered the police to arrest Khan — who wasn't present at the hearing as he was at his Zaman Park residence in Lahore.
The Punjab Police entered the Lahore residence of Khan, who was removed as the prime minister via a no-confidence motion last year in April, through the back door.
When they approached Khan, he was wearing a blue tracksuit and was eating lunch.
Khan told the police that he needs to eat, but the law enforcers insisted that they had to arrest him on court orders and that he could eat later on.
The police then took the PTI chairman into their custody and stopped his guards within the home's premises.
His arrest triggered protests in several cities of the nation, with the party vowing to challenge the lower court's decision in the superior courts.
The former prime minister was sent to jail for three years Saturday after a court in the capital found him guilty of graft in the Toshakhana case, a move likely to bar him from standing in elections due later this year.
Anyone convicted of a criminal offence is disqualified from contesting elections in Pakistan, and parliament is likely to be dissolved in the next two weeks before it completes its term, with a national vote to be held by later this year or early next year.
"His dishonesty has been established beyond doubt," Judge Dilawar wrote in the ruling seen for a case centred on gifts he received and did not properly declare while he was premier.
The judge also fined him Rs100,000 (around $350).