August 15, 2023

Web Editor

0
Interim CM-designate: Who is Justice (retd) Maqbool Baqar?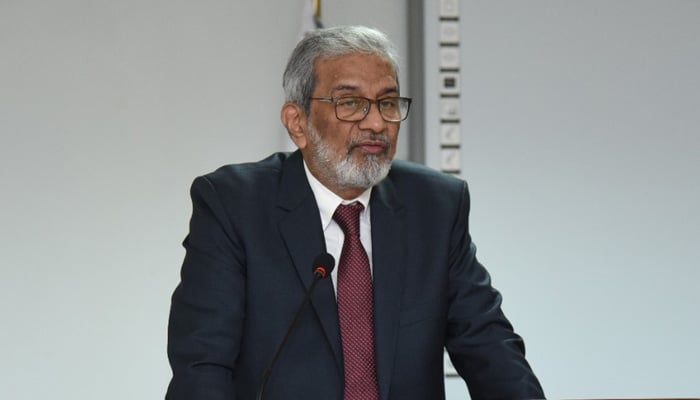 KARACHI: After days of deliberation about who will be the next interim Sindh chief minister, the ruling Pakistan Peoples Party (PPP) in the province and Leader of the Opposition Rana Ansar, representing the Mutahidda Qaumi Movement-Pakistan (MQM-P), decided on the name of Justice (retd) Maqbool Baqar for the post.
Justice (retd) Baqar last served as a senior judge at the Supreme Court of Pakistan after receiving elevation from his post as the Sindh High Court chief justice on February 17, 2015. He was appointed as the top provincial judge of Sindh in September 2013. Justice (retd) Baqar retired from the SC in April 2022.
He garnered praise for his works as an excellent and brave jurist, particularly following a targeted attack on him by a terrorist outfit due to his judicial verdicts against terrorists.
Justice (retd) Baqar was also known for his critique of the judiciary. Following his retirement in April 2022, he once publicly pointed out severe flaws in the country's judicial affairs.
Born on April 5, 1957, the senior SC judge began his legal career with his enrollment as an advocate in May 1981 after completing his LLB from the University of Karachi. He was appointed as an additional judge of the Sindh High Court (SHC) on August 26, 2002, and confirmed as an SHC judge the following year.
While he was serving at the SHC, Justice Baqar's judgments in terrorism cases irked terrorist outfits, after which he was targeted by Lashkar-e-Jhangvi terrorists in a bomb explosion on June 26, 2013, in Karachi. He, along with personnel of law enforcement agencies, suffered injuries in the attack. But the judge returned to work after months of rehabilitative surgery.
One of his notable judgments came in the case of the Baldia factory fire, which resulted in the largest compensation to the victims of the arson incident.
Justice (retd) Baqar has on multiple occasions highlighted flaws in the judiciary.
Even in his speech at the farewell reference for him at the Supreme Court, he conceded: "I believe that despite our efforts, we have fallen short of expectations. Delays and pendency remain at an all-time high across all courts in the country. The reality ought to be disconcerting for all stakeholders.
"It is, therefore, imperative that we remove encroachments in the path of expeditious and inexpensive justice and build dams against unnecessary delays in adjudication with sincerity of commitment and a single-minded focus on fulfilling our constitutional role."
After retirement, he called out corruption in the judiciary. Participating in a session at the Karachi Literature Festival in February this year, Justice (retd) Baqar said corruption persisted in the judiciary and the induction of judges had not invariably been on merit as nepotism, favouritism, and the sacrifice of merit factored in.
He remarked that judges who were involved in unscrupulous activities tended to please people with power and authority and never confronted or offended them, and if any complaint was filed against them, it was swept under the carpet.