August 23, 2023

Web Editor

0
'Won't bow down before extremism': PM Kakar asserts resolve against terrorism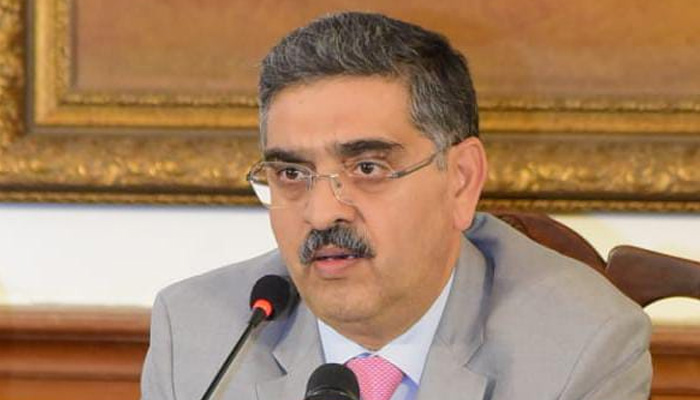 Praising the sacrifice of Pakistan Army soldiers in the country's war against terrorism, caretaker Prime Minister Anwaar-ul-Haq Kakar Wednesday asserted Pakistan will not bow down before radicalisation, extremism and intolerance under any circumstances.
Speaking with journalists at the Governor House in Karachi, the premier said Pakistan is our homeland and we will take it forward as per our own plan.
The remarks by PM Kakar, flanked by Sindh Governor Kamran Tessori, came in the wake of soldiers embracing martyrdom in Waziristan a day earlier. The acts of terrorism, he said, cannot weaken Pakistan's resolve in the fight against terrorism.
The prime minister, during the presser, said those behind such acts mistakenly believe that the war on terrorism will exhaust us.
"Wars are not fought by individuals, but nations," he maintained.
PM Kakar emphasised Pakistan will neither forget the sacrifices of its martyrs nor refrain from making further sacrifices in the war on terrorism.
Expressing the nation's firm resolve, he said terrorists will be relentlessly pursued.
Stressing on efforts being made towards owning the fight against terrorism, the premier clarified that the nation is not doing so through donations, but with the taxes being paid by Pakistanis.
He said those rendering their lives on the Line of Control (LoC), Waziristan and other areas are our sons, who are playing a commendable role in meeting internal and external challenges.
PM Kakar said the security personnel, who protect the nation by putting their lives on the line, do not offer their services or sacrifices for the sake of any remuneration, but the respect and honour for their service constitute their true reward.
The prime minister strongly abhorred terrorist acts and suicide attacks, emphasising that the nation is not afraid. He said we will continue to fight against these misguided elements and they will be taken to task as per the law.
The premier also expressed satisfaction over the successful rescuing of eight people in the Battagram chairlift operation, commending the armed forces, the district administration and locals for their efforts in this regard.
The defense institutions, he mentioned, are not only taking care of external aggression but also remain at the forefront in coping with disasters and internal rescue challenges.