August 1, 2023

Web Editor

0
PTI chief's bitterness with Nawaz, establishment should end: Fawad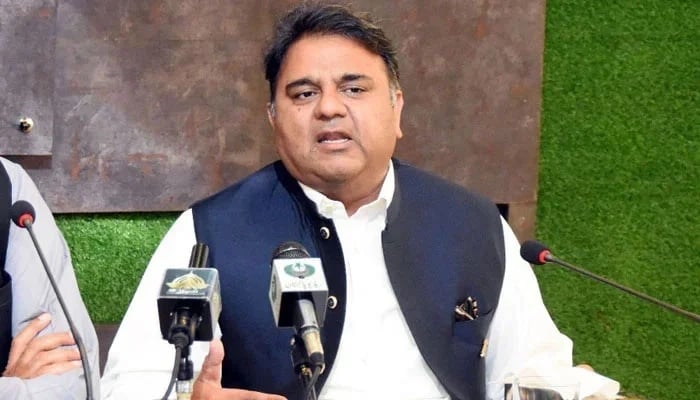 Istehkam-e-Pakistan Party (IPP) leader and former information minister Fawad Chaudhry said Tuesday that Pakistan Tehreek-e-Insaf (PTI) Chairman Imran Khan's bitterness with the establishment and Pakistan Muslim League-Nawaz (PML-N) supremo Nawaz Sharif should end before the elections.
Speaking to the media outside the Election Commission of Pakistan (ECP) in Islamabad, Fawad, who parted ways with PTI following the events of May 9, expressed discontent with the current political landscape of the country and urged his former party's chief to mend ties with other political bigwigs and the establishment.
"How will we move forward in such bitterness?" he asked, adding that the situation is not "normal" at the moment.
He further said: "Bringing the country's situation back to normal is more important than the elections.
"The distance and bitterness between the PTI chairman and the establishment should be reduced. The bitterness between the PTI chief and Nawaz Sharif also needs to be curbed.
"How will it be possible to hold an election in Pakistan until these tensions are reduced?
"Even if the election are held, how will any problem in its results be solved in this atmosphere?" he asked.
The former minister also proposed that a "Charter of Democracy" be signed to return things to normalcy.
"There is no environment for democracy and elections in Pakistan. There is a need to decide how to normalise Pakistan."
So, he suggested that before the election, a democratic charter be made to ease tensions between the dissident parties.
Fawad added that without returning to stability, it was useless to conduct the polls.
Expressing reservations regarding the interim setup, Fawad said that the caretaker government would be formed by Prime Minister Shehbaz Sharif's and NA opposition leader Raja Riaz's "will" and would then hold the polls.
He lamented that the country's political leaders are so caught up in their scuffles and fights, they can not even talk about Pakistan's problems.
"In these crippling conditions, whether Pakistan goes to the election or not is irrelevant; the bitterness must end first," he reiterated.
It is pertinent to note here that Pakistan Peoples Party (PPP) co-chairman Asif Ali Zardari urged all parties to hold mutual negotiations.
The former president said that the political parties had initiated talks to solve the issues regarding elections. He said that when Pakistan Democratic Movement (PDM) would come on one page for the general election, the opposing party PTI would also be consulted.