August 15, 2023

Web Editor

0
Lahore court remands Elahi to NAB's custody in bribery case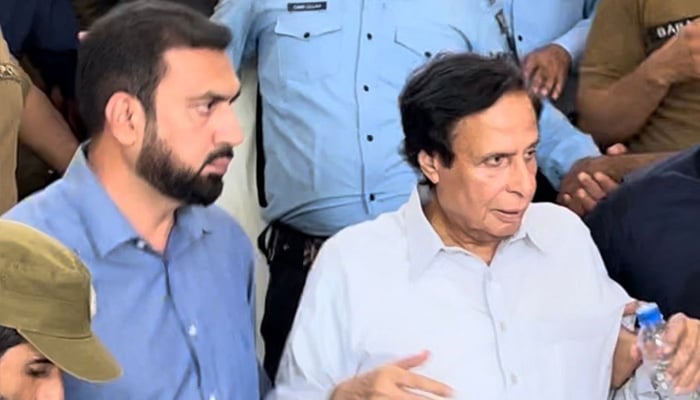 LAHORE: An accountability court in Lahore Tuesday remanded Pakistan Tehreek-e-Insaf (PTI) President Chaudhry Parvez Elahi to National Accountability Bureau's (NAB) custody till August 21 in a case of bribery over development project contracts.
The former Punjab chief minister — who has been detained back-to-back — was arrested yet again by NAB officials shortly after being released from Rawalpindi's Adiala jail on Monday night.
However, as soon as the PTI president walked free, the NAB officials apprehended him and presented him before Judicial Magistrate Khalid Hayat to seek his transitory remand.
Today the NAB officials, whose request for the transitory remand was accepted last night, presented Elahi before a Lahore court.
The accountability court judge, Zubair Shehzad Kiyani, presided over the hearing in Lahore.
During the hearing, Special Prosecutor Waris Janjua sought Elahi's 14-day physical remand on NAB's behalf. He informed the court that a supplementary grant of Rs72 billion was issued for specific sectors of Gujrat under Elahi as Punjab CM.
Others facing charges in the same case have been remanded, he added.
At this, the court approved a seven-day physical remand — half as requested by the prosecution — of Elahi, who sought permission to meet his wife and son.
However, the court directed NAB to submit a response to the PTI president's plea.
Elahi was initially arrested on June 1 from outside his residence in an Rs70 million graft case related to the embezzlement of development funds allocated for the Gujrat district.
Since then, the former Punjab chief minister has been behind bars on various charges. During a span of around two and half months, the PTI leader was released multiple times on the courts' orders but was re-arrested immediately every time.
The PTI president was taken into custody during a crackdown launched against the party's leadership following the May 9 riots.
The riots were triggered almost across the country after the PTI chairman's arrest in the £190 million Al-Qadir Trust case on May 9 which led to the deaths of at least eight people and injured several others, prompting the authorities to arrest thousands of PTI workers.
During the protests, the miscreants attacked the civil and military installations including — Corps Commander's House (Jinnah House) in Lahore Cantt and the General Headquarters (GHQ) in Rawalpindi.
The military called May 9 "Black Day" and decided to try the protesters under the Army Act. Prime Minister Shehbaz Sharif termed May 9 as the "darkest day in the [country's] history" and announced to try the suspects in the military courts.
The National Security Committee had also endorsed the decision of the top brass to act against rioters under the Army Act.