August 20, 2023

Web Editor

0
At least 18 killed, 11 injured as bus catches fire near Pindi Bhattian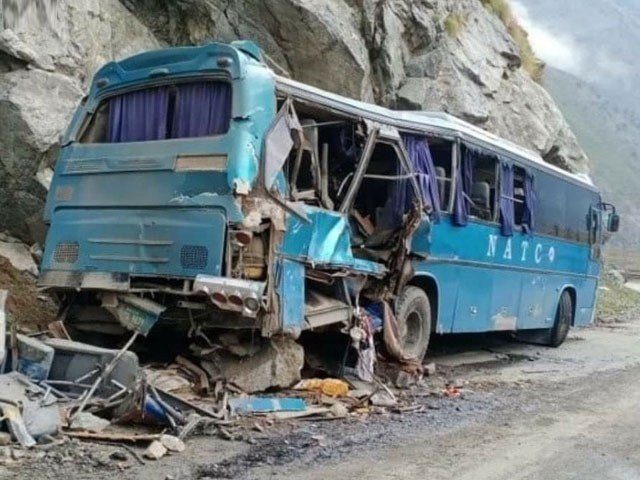 At least 18 people died and 11 others were injured on Sunday when a passenger bus caught fire after crashing into a pickup truck near Pindi Bhattian.
The accident occurred near Hafizabad tehsil reportedly due to the driver of the passenger bus "falling asleep" on the steering and losing control of the vehicle.
Meanwhile, Hafizabad DSP Ehsan Zafar said that the passenger bus crashed into a vehicle carrying diesel. The former exploded on impact and was reduced to ashes, he said, adding that the accident occurred at around 4.30 am and flames were extinguished after an hour-long effort.
A passenger who survived the fatal crash said that the bus driver had changed in Rahim Yar Khan while petrol started leaking from the vehicle near the Toll Plaza on Pindi Bhattian M3.
The deceased and injured were being identified by the time of the filing of this report.
According to Hafizabad DPO Dr Fahad, 15 of the deceased have been shifted to Tehsil Headquarters Hospital.
At least eight of the injured have also been shifted there, said Health CEO Dr Umar Rathore.
The injured identified thus far include Taluk Faisalabad, 26, Aaliya 25, Imdad, 18, Sajid, 25, Sabir, 39, Nazar, 34, Abira, 10, Masifa, 14, Zeeshan, 20, and Usman, 15 years old.
Rescue officials said that their teams reached the site within five minutes of receiving the news.
Among those killed in the accident were six members of the same family, said rescue 1122 officials, adding that passengers hailing from Karachi, Khairpur, Faisalabad, Jalalpur Bhattian and Pindi Bhattian were on the bus.