July 15, 2023

Web Editor

0
Imran Khan warns JIT members of consequences for actions against PTI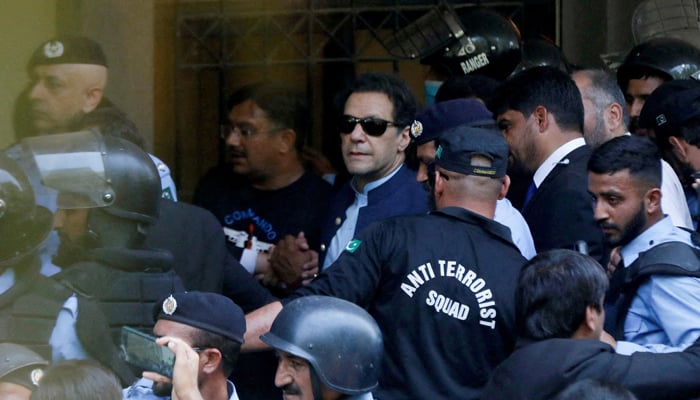 LAHORE: Former prime minister Imran Khan on Friday appeared before a joint investigation team (JIT) probing the May 9 incidents during which he warned them of consequences for actions taken against his party, sources said Saturday.
The former premier was interrogated by a six-member panel comprising a DIG, SSP and 4 SPs for an hour at the DIG Investigation headquarters for his alleged role in the attacks on the Corps Commander House (Jinnah House) and other military installations in the city.
"We will ask you only professional questions," JIT members reportedly told Khan.
When asked whether the May 9 events were planned or just a coincidence, the Pakistan Tehreek-e-Insaf chief said it was a conspiracy against him and his party.
"I have got nothing to do with it, it was planned elsewhere," he said.
He was also asked why the PTI supporters protested inside cantonment areas, to which he said, "people were bound go there because I was arrested by a commander."
"There is evidence that you provoked them and gave orders," JIT asked.
The PTI chairman, according to the sources, rejected the allegation and maintained that protesters were acting on their own and went to those places voluntarily.
"Everything that happened that day was a conspiracy," the PTI chief said, according to the sources aware of the details.
The JIT also showed various videos and pictures to the PTI chief related to the May 9 mayhem.
The sources said that Imran Khan denied knowing any of the protestors in those visuals and said, "they are not my people".
"I will make a comeback and you will have to answer for all your actions," he said to the JIT members in a threatening tone.