July 8, 2023

Web Editor

0
7 killed, 13 wounded in LPG cylinder blast in Sargodha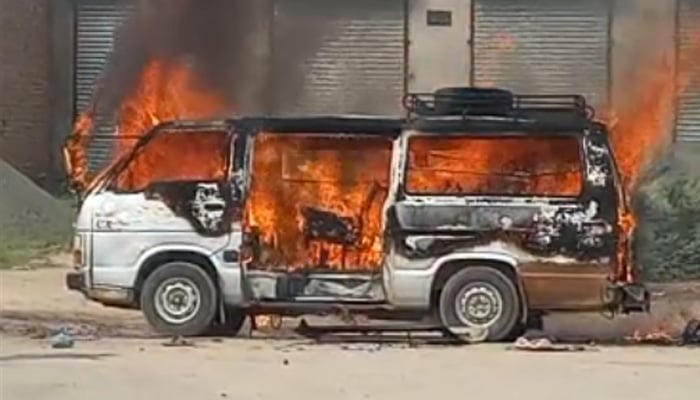 SARGODHA: A gas leak explosion in an LPG cylinder in a moving van killed seven people and injured 13 others in the Bhalwal city of Sargodha district on Saturday morning.
The police said a white Toyota Hiace was en route to Kot Momin when the substandard cylinder filled with LPG gas for fuel exploded due to a gas leak. They said that the van's driver fled the scene right after the explosion.
Kot Momin Police Station Head Constable Shahid Safdar, who is one of the injured passengers of the van, said he was heading to work in the ill-fated van.
He said that he was sitting on the front seat of the van when the cylinder exploded around 8:30am.
Safdar was lucky enough to get out of the van safely, as he said he immediately exited the vehicle. However, he sustained some minor injuries.
He said that he broke open the middle door and the rear door of the van to take the passengers out as the flames had engulfed the entire vehicle.
"I pulled some of the burning passengers out of the van but couldn't save six to seven people present in the van," Shahid said.
The injured were shifted to nearby hospitals in Sargodha and Kot Momin.
Earlier, the rescue-emergency officer said that the condition of one of the injured was critical. He said that the process of identification of the deceased was underway.
Incidents like this are not uncommon in Pakistan as several passenger vans have substandard cylinders, with no quality and security checks in place.