Editor's Note: Sign up for Unlocking the World, CNN Travel's weekly newsletter. Get the latest news in aviation, food and drink, where to stay and other travel developments.
Whether we call them railways or railroads, we're all familiar with the concept – big, heavy vehicles that can't climb steep hills, running on two steel rails. That's the pattern, right?
Well, railway technology is more versatile than you think. Over the last 200 years it has evolved to conquer cities, mountains, deep mines and some of the world's most extreme climates. Here's a selection of unusual railways that break the rules in order to reach the places other trains can't roll.
Wuppertal Schwebebahn, Germany
If ever a railway was perfectly suited to its environment, it's the legendary Schwebebahn monorail in Germany's North Rhine-Westphalia region. Built to link several industrial towns along the narrow, twisting valley of the Wupper river, the suspended monorail was completed in 1901 and was instrumental in the growth of the towns, which eventually merged to become the city of Wuppertal in 1929.
It might look unusual to visitors, but to the people of Wuppertal it's the backbone of the city's transit network, gliding up to 40 feet above congested streets to offer fast, direct journeys along an eight-mile route.
The single rails carrying the trains are supported by a series of 486 steel portals weighing almost 20,000 tonnes in total. More than 80,000 people a day are transported by 31 modern articulated cars traveling at up to 37 mph (60 kph). A replica of the vintage Kaiserwagen (Emperor's Car) used by Kaiser Wilhelm II in 1900 also operates on special occasions but is currently being restored; it's hoped that it will return to service by spring 2024.
Stoosbahn, Switzerland
Current holder of the record for the world's steepest public railway, Switzerland's Stoosbahn opened in December 2017 and has become a global tourist attraction in its own right.
The unique cars with their rotating "barrels" allow passengers to stay level and travel serenely up the mountain at gradients of up to 110%. On a route of just over one mile (1.74 kilometers), the railway climbs almost 2,450 feet (744 meters) from the valley station in just five minutes.
Stoosbahn is far more than just a joyride though – it's a vital lifeline for the car-free village of Stoos, which sits high on a mountain near the town of Schwyz, south of Zürich. Each car is fitted with three passenger "barrels" plus a further section for freight. Every year, up to 10,000 tonnes of freight is carried – essential supplies going up the hill to restaurants and hotels, garbage and recycling traveling back down. Up to 1,500 passengers an hour, plus their skis or snowboards, can also be carried – a 50% increase over the previous funicular railway.
Riding the Stoosbahn is a unique experience, even if you're a connoisseur of mountain railways. The smooth transition from level to almost vertical happens very quickly and the view from the rotating cabins is exceptional. You'd have to be very jaded not to be impressed with such an astonishing piece of railway engineering.
Hythe Pier Railway, England
Pier railways were an attraction at several British seaside resorts in the 19th century, the most famous being the mile-long trip to the tip of Southend Pier on the country's east coast – which you can still experience today. Most were built for pleasure, usually to save visitors a long walk back to shore.
Hythe Pier Railway, on the south coast of England, has always been a little different though; it provides a unique link between dry land and the Hythe Ferry, which has shuttled to and fro across Southampton Water since the Middle Ages.
The current pier opened in 1881 and a quirky 2,100-foot railway was added in 1909. It is the oldest continuously operating pier railway in the world. Wagons were initially propelled by hand but in 1922 a new narrow gauge electric railway replaced the original track. Two Army surplus electric locomotives, originally built to work in a World War I mustard gas factory, have worked the trains ever since.
The bizarre-looking locomotives continue to pull (or push) their weatherbeaten little coaches along the pier to meet every ferry to and from Southampton Town Quay, despite numerous threats of closure. Visit it while you still can.
Chongqing Monorail, China
Monorails have been around for more than a century and examples can be found all over the world, but they've never quite fulfilled the futuristic promises of their early promoters. That said, there are a few places where the unique qualities offered by monorails are ideally suited to their environment.
Chongqing in China is home to the world's longest and one of its busiest monorail system, carrying millions of passengers a year on two high-capacity "straddle beam" lines totaling 61 miles in length. At just over 34 miles, Line 3 is also the world's longest single monorail line with an annual ridership of around 250 million. Opened between 2005 and 2016, the two lines have 70 stations with a mix of underground and elevated sections. Famously, one section of Line 2 passes through the heart of a high-rise apartment block.
The city's unique topography, with extreme differences in altitude between its densely populated mountain plateaus and the Yangtze and Jialing river valleys forced Chongqing's transit authorities to seek an alternative to conventional metro trains. Monorail's ability to negotiate steep climbs and tight curves made it the ideal solution when this megacity needed to transform its public transit system.
Ferrobus, South America
Is it a train? Or is it a bus? Neither, it's a Ferrobus – a unique form of improvised transport found across mountainous regions of South America.
Combining old road bus bodies with rail wheels, these wobbly-looking contraptions are a lifeline for remote mountain villages lacking official road access. Using otherwise abandoned rail lines – often built in the 19th and early 20th century to exploit mineral deposits – Ferrobus routes can be found in Chile, Bolivia and Colombia, climbing high into the Andes.
Ferrobus trips are increasingly popular with tourists seeking an unforgettable experience, and likely wanting to avoid uncomfortable and often dangerous road journeys. Chile's Gondola Carril from Los Andes to Rio Blanco, north of Santiago, operates purely for tourists, but others provide regular, if somewhat unpredictable, transport for locals and tourists alike.
Bolivia is arguably the epicenter of the Ferrobus world, with at least three routes, although there's a constant risk of derailments, not to mention disruption from floods, rockfalls and extreme weather.
Riding a Ferrobus requires patience and stamina, but you're guaranteed to return with some hair-raising stories to tell your friends.
'Pokémon With You, Japan
Gotta catch 'em all? Here's one that will appeal to fans of Pokémon and trains. An otherwise ordinary Japanese local train has been dressed up to resemble the all-conquering franchise's most famous character – Pikachu.
The bright yellow signature color dominates inside and out, with Pikachu motifs covering everything from floor to walls and curtains. One car has seating, while the second car has been fitted out as a fabulous mobile playroom for junior Pokémon trainers. During the two-hour trip from Ichinoseki to Kesennuma in the Tõhoku Region, children can play, nap and socialize with giant plush Pikachus or even pretend to drive the train.
Introduced in 2017 to put a smile on local faces after the devastating earthquake and tsunami of 2011, which also prompted the reactor meltdown in the neighboring Fukushima region, Pokémon with You is one of several "Joyful Trains" operated by railway company JR East. Ranging from traditional steam trains to luxurious, exotically decorated expresses between cities and resorts, they're part of an incredibly rich and vibrant railway culture that attracts visitors from all over the world to Japan.
The Small Underground, Budapest
Which city is home to mainland Europe's oldest underground railway? Paris? Berlin? Vienna? In fact, it's the Hungarian capital Budapest, where line M1 has been operating since May 1896.
In the late-19th and early 20th centuries Hungary – then part of the Austro-Hungarian Empire – was a vigorous pioneer of new railway technology. This short (2.3-mile) line under Andrássy Avenue on the Pest side of the Danube river was only the third underground electric railway in the world, opening shortly after similar lines in London and Liverpool, England.
Like London's tiny "tube trains" of the same era, the first tunnels in Budapest were built to an unusually small profile and the effects of that decision can still be encountered today on what the locals call "a kisföldalatti," or "the small underground." The original trains, more akin to freight cars fitted with wooden shelters, were replaced in 1973 when line M1 was rebuilt and extended, but a ride on M1 is still a very different experience from the city's later metro lines with their wide-bodied trains and airy stations.
Thousand of people a day squeeze into the little yellow trains – a much higher ridership than when it was completed. But with its low platforms and short, angular trains, it's very different to the usual city metro experience.
Glass Floor Hanging Train, China
Over the last two decades, China's rail industry has become the largest and most varied in the world, helped by the astonishing expansion of the country's high-speed network and global exports.
But there's far more to China than sleek high-speed trains and megacity subways; the size and diversity of this enormous nation demands ingenious solutions to serve areas conventional trains can't reach.
A unique example is the world's first hanging monorail with a glass floor, now running in Sichuan Province. The Dayi Air Rail Project connects four stations at busy tourist spots over a seven-mile (11.5 kilometer) route in the city of Chengdu.
Unusually, the lightweight car bodies are constructed from carbon fiber and composite foam material. They are powered by rechargeable batteries with electricity from renewable sources. But the panoramic windows and transparent floor are their most spectacular features, allowing up to 120 passengers per trip a 270-degree view combining clean, efficient and quiet transport with a memorable sightseeing trip.
DMV Road-Rail Bus, Japan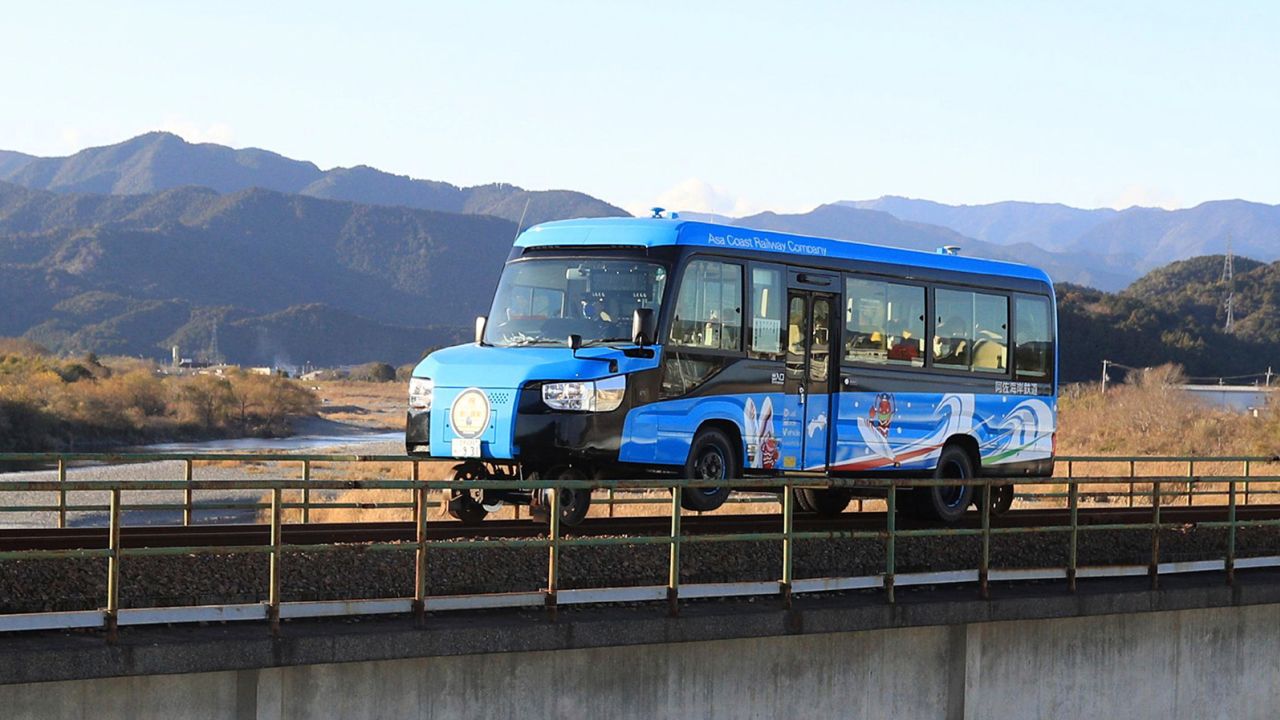 Imagine a vehicle that can pick you up outside your home, drive to the nearest railway line, convert itself into a train and then switch back to drop you in the center of a nearby town. It may sound like a story from "Thomas the Tank Engine," but that exactly what Japan's DMV Road-Rail buses have been doing since they launched on Christmas Day 2021.
The buses, carrying around 20 passengers per trip, run a 30-mile route between the town of Kaiyo in Tokushima and the city of Muroto, Kochi Prefecture. Six miles of the route are along a rural railway line, with the rest in bus mode.
With a capacity of 23, including passengers and crew, the DMV is a diesel-powered bus fitted with a set of retractable rail wheels which can be deployed in about 15 seconds. Lighter than a traditional train, the DMV also consumes less fuel and is cheaper to maintain.
Billed as "the world's first operational dual-mode vehicle," it is actually the latest in a long series of similar experiments to improve rural rail services and reduce their costs. As far back as the 1930s, road buses were converted into railcars in Ireland and similar vehicles to the DMV were tested in England in the 1930s and West Germany in the 1950s.
Tokushima prefectural government hopes the DMV buses will become a tourist draw in their own right. It also believes that the vehicles could also be useful for reaching isolated communities in the event of natural disasters such as earthquakes, which can leave sections of roads or railway lines unusable.
Katoomba Scenic Railway, Australia
Not far from the wonderful city of Sydney is a railway experience unlike anything else in the world. Situated in the heart of the Blue Mountains, the Katoomba Scenic Railway is another contender for the title of the world's steepest railway. But, unlike Switzerland's Stoosbahn, this railway delivers a hair-raising descent down sandstone cliffs and through epic rock formations and tunnels perched over a stunning rainforest landscape.
Glass-roofed cars take up to 84 visitors per trip down the 52-degree (128%) incline, although if you're feeling brave you can adjust the angle of your seat to the "Cliffhanger" position at 64 degrees. Fortunately, there's also a "Laidback" option for the less adventurous.
The rope-hauled railway dates back to the late-1800s when it was part of the Katoomba mining tramways, but since 1945 the remaining line has been a thrilling tourist attraction. More than 25 million people have braved the trip since it opened and the latest generation of cars feature panoramic roofs, allowing visitors to get an even better view of the forest canopy and rock formations.