When Edward Enninful was appointed editor-in-chief of British Vogue in 2017, he became the first man and the first black person to hold the title.
Throughout his six-year tenure, the firsts have continued, with Enninful, recently promoted to a new global role, championing a series of pioneering moments.
In 2018 the author Paris Lee became the first trans person to feature in the title while a year later the actor Laverne Cox became its first trans cover star.
In 2020, Judi Dench became Vogue's oldest cover star at the age of 85.
That same year its September cover was shot by Misan Harriman, the first black male photographer in the magazine's 107-year history.
Two years later the Oscar-nominated actor Timothée Chalamet became the first man to land a solo cover while most recently a series of covers featured for the first time a vanguard of disabled talent.
In another first, the magazine was made available as a braille and audio edition.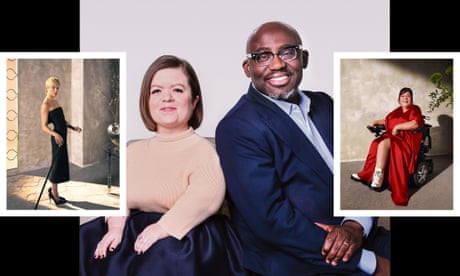 Enninful has transformed British Vogue from an archaic, white-led monthly glossy, described by insiders the Sloanie Club, into a diverse and inclusive multi-platform brand.
Last year, in an interview with WWD, Enninful mused on how his role as editor-in-chief had changed in just five short years.
"When I started [at British Vogue] in 2017, I was dealing with a magazine. Today, I'm dealing with a brand that includes print, digital, audio, video and podcasts, which is so exciting for somebody who's so forward looking."
During his predecessor Alexandra Shulman's 25-year reign, only 12 covers out of 306 featured black women while the workforce was mostly white.
By 2020, Enninful's editorial team was made up of 25% people of colour, and having been told: "Black girls on the cover don't sell," revenue was up while digital traffic rose 75% year on year in the first half of 2021.
Describing his vision, Enninful said: "I wanted to reflect what I saw here growing up, to show the world as this incredibly rich, cultured place. I wanted every woman to be able to find themselves in the magazine."
His debut December 2017 issue was dedicated to Great Britain and featured the black model and activist Adwoa Aboah on the cover while inside there were features with Kate Moss, Salman Rushdie, Steve McQueen, Sadiq Khan and Skepta.
It instantly went viral. One thousand special hard-bound souvenir copies sold out within hours. And in a further sign that the gilded halls of Vogue House were no longer so exclusive, Enninful invited readers to a free meet-and-greet event. Hundreds queued up outside.
At the time of his appointment, Condé Nast described Enninful as "an influential figure in the communities of fashion, Hollywood and music which shape the cultural zeitgeist".
With an unrivalled contacts list – he counts Naomi Campbell, Oprah Winfrey, Beyoncé and Rihanna as close friends – Enninful has bolstered British Vogue's position and transformed it into a key powerplayer.
Such is his influence, Enninful revealed in April that he had turned down advertising from major fashion brands which do not share his vision of inclusivity.
His September 2019 Forces for Change issue, guest-edited by the Duchess of Sussex and starring the teenage climate activist Greta Thunberg and author Chimamanda Ngozi Adichie, sold out in 10 days, becoming the fastest selling issue ever and fetching 14 times the retail price on eBay.
While other brands reduced output during the 2020 pandemic, Enninful continued to push the boundaries of what a Vogue cover star looks like, this time choosing three frontline workers, a midwife, a train driver and supermarket assistant to appear on his July Heroes issue.
In 2021 subscriptions to British Vogue grew by more than 14% while the number of digital visitors rose by 22%.
Last month a report by Launchmetrics, which ranks magazines in terms of fashion, luxury and beauty advertising, placed British Vogue in first position while American Vogue was in third.
Enninful has become a brand in his own right. His Instagram is peppered with photographs of him and his inner circle. It spans everything from coffee with Oprah Winfrey and Gayle King to red carpet appearances with Leonardo DiCaprio at the Cannes film festival and tea with Lionel Richie at King Charles' coronation. Last year his memoir, A Visible Man, topped the bestsellers lists.