June 5, 2023

Web Editor

0
On a clear day, you can see Ireland and Scotland: a car-free break on the Isle of Man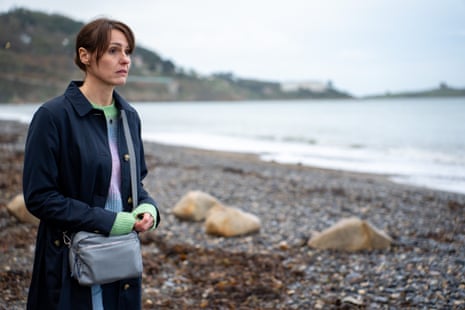 Maryland was actually filmed in Ireland, though establishing shots such as this, to set the scene, were done on the island, and they do capture the atmosphere of the place, its separateness and stories, its beaches and beauty.
You don't have to fly to the Isle of Man; you can take a ferry, which is what I'm doing after arriving in Liverpool by train on a day of late spring sunshine. As I walk from Lime Street station to the ferry, the Mersey gleams, gulls call, a tuneless busker strums Here Comes the Sun, and girls in summer dresses take selfies with the waterfront Beatles' statues.
On the seaside promenade in Douglas, a 2½-hour boat ride away, the same sculptor, Andy Edwards, created three bronze Bee Gees in 2021. Behind them, a castellated Victorian tower rises from a rocky island and cormorants dive sleekly into the waves.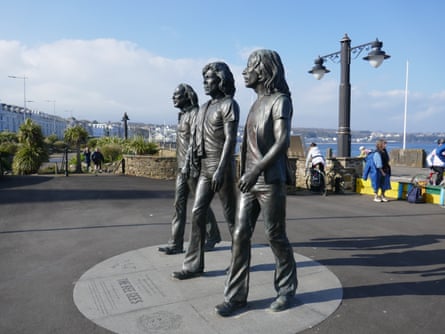 There's more here than tailless cats, financial services and motorbike races. The Isle of Man (also Mann), birthplace of the Bee Gees, has vintage summer trains, lashings of folklore, a 100-mile coast path, and the whole thing is a Unesco biosphere. This compelling image of a legend-rich eco-haven in the Irish sea has brought me here. The Manx Electric Railway, a seasonal tram that I catch on my first day, is 130 years old. It still uses the original Victorian carriages with their polished wood and brass and reupholstered red seats.
The railway runs along undulating coastal headlands and through tunnels of gold-flowered gorse; the whistle blows to clear a feral goat from the tracks ahead. I step off at Ballaglass into the smell of wild garlic and the sound of rushing water from the glen below. For the next half hour I wander beside deep clear pools and waterfalls, through mossy woods full of birdsong and bluebells. There's a carved wooden figure called the Wizard of Mann, studded with large bracket fungi like an old tree.
Joining the coast path, I follow blue signs with a gull logo along the raad ny foillan (way of the gull in Manx Gaelic). They lead me down quiet lanes and past a neolithic burial cairn on a windswept hillside. The banks are laced with late blackthorn blossom and starry stitchwort. A huge hare lollops down the middle of the road ahead.
A collection of ancient crosses near Maughold parish church is covered with centuries' worth of carved animals, scratched runes, twisted snakes, Celtic scroll work, even a Viking ship. Nearby are several keeills, small early churches and, inside the current church, the 14th-century parish cross with one of the oldest images of the three legs of Mann (a triskelion). This national emblem, a version of a sun symbol adopted by the isle's medieval kings, is now almost everywhere: from mosaics in a rockery to plastic signs above a chippy.
Arriving in Ramsey, the second biggest town on Man, I head for the Fynoderee Distillery. It's named after one of the island's many supernatural creatures, and several of the spirits it produces also draw on Manx folklore – with names such as Glashtyn spiced rum and Elder Shee gin. "You'll have to say hello to the fairies," says a taxi driver in ITV's Maryland, driving the sisters over an old stone bridge, "otherwise it's bad luck." The tradition is real, although the bridge is a stand-in.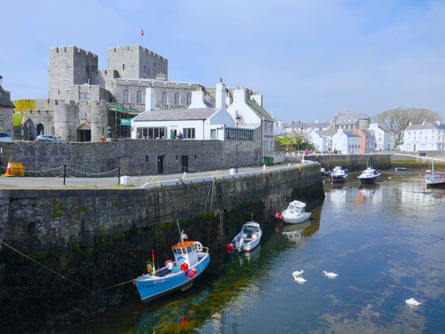 There's an evocative smell of soot and frying bacon next morning as I reach the 150-year-old steam railway, which puffs south from Douglas several times a day between March and October. Forty minutes later, I'm climbing the weathered sandstone stairways of medieval Castle Rushen, former fortress of the Lords of Man. Outside, there are striped deckchairs on Castletown's Market Square, cherry blossom overhanging cobbled lanes, and swans drifting on the Silverburn River as it flows to a harbourside lighthouse.
"Walk straight ahead for the best beach on the island," says a cheerful guy handing out maps at Port Erin station, three stops further on. This seaside village has bike hire and boat trips, in season, to the Calf of Man, a bird-rich smaller island. A tower on one green headland overlooks a wide smile of sandy bay. The water is an inviting aquamarine and I take off my boots to paddle. It's cold and clear; two swimmers in wetsuits are leaving the Cosy Nook cafe as I arrive.