June 7, 2023

Web Editor

0
'More tram-spotting than Trainspotting': the new tram linking Leith to Edinburgh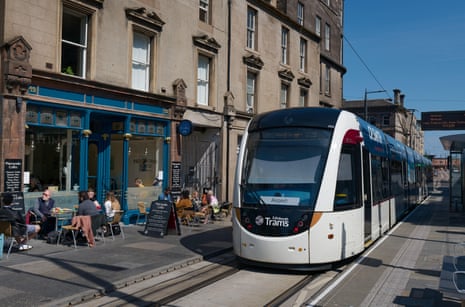 eith is changing. Bars are becoming bistros, and barbers are opening with bars in them," says walking guide Paul Stewart, founder of Edinburgh Street Tours. He points to the new tram station atop Leith Walk and says, "It feels more tram-spotting than Trainspotting," a reference to the drug-addled 90s black comedy written by Leith-born Irvine Welsh. Stewart is not complaining as he used to survive on the streets of this old port where, in the 1980s, half the unemployed had been jobless for over a year. It was no accident that Leithers the Proclaimers used Leith as the video backdrop for their damning riposte to Thatcherite Scotland, Letter from America.
I've come to explore this Edinburgh district ahead of the new tramline launching on Wednesday. Trams opened connecting the city centre to Edinburgh airport back in 2014, with the last stop at York Place. It's taken the best part of a decade for the line to forge down Leith Walk into Leith proper and on to the waterfront at Newhaven. It's a run of just 2.91 miles and eight new stops – but its arrival brings palpable hope.
Trams were lost to Edinburgh in 1956; the last to run were on Leith Walk on 16 November that year. Leith was always the outlier: horse-drawn trams came to Edinburgh in 1871 on a line down to Leith, and the city's first electric trams were run in 1905 by the pioneering Leith Corporation Tramways. Symbolically, Leith Walk's old Shrubhill tram depot – where that last service terminated 67 years ago – has today been transformed into the Engine Yard development, with a proportion of affordable accommodation.
"I'm proud our motto in Leith is 'persevere'. You can see all of the changes coming with the trams, but Leithers are determined not to lose any of our heart, any of Leith's soul," beams Stewart. It's a place known for its independent, cosmopolitan spirit: in 1920, Leithers voted by 26,810 to 4,340 against amalgamating with Edinburgh (but were ignored) and the area had one of the highest remain votes in the EU referendum.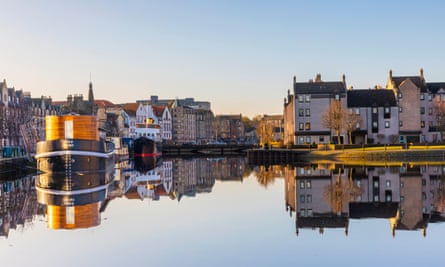 At the top of Leith Walk I find immediate new blood. Spry, a wine bar serving only natural wines, has just added an artisan bakery below. Next door Laila, a pink flower-bedecked cafe, was totally revamped in November 2022. The parallel street Easter Road, now drily nicknamed "Feaster Road" by local people, has Foodstory, a "sustainable cafe", swish patisserie Écosse Éclair and vegan cafe Plant Bae, alongside the Edinburgh Honey Company and Polentoni, a proper Italian deli. Ailidh Forlan, AKA food blogger Plate Expectations, tells me: "With the coming of the trams Leith is becoming a real foodie haven." As I tuck into the best nduja and gorgonzola foccaccia this side of Bologna, I'm inclined to agree.
One growing sector is craft breweries, with Pilot and its Leith Lager joined by the likes of Campervan and Newbarns. Taprooms and fruit beers now flow through streets where more than 80 bonded whisky warehouses used to reign (whisky would be stored prior to being shipped out or sold on in Scotland, with some warehouses used for whisky maturation, too). Old Leith is not risking being drowned by the new, though. I'm reassured to find the Sicilian Pastry Shop still here. Since 1979. You can snare three cakes here for what one costs in Leith's new boutique bakeries.
I head back to "the Walk". Daniel Defoe found it "a very handsome Gravel-walk" in 1725. Longtime Leith resident BBC Radio DJ Vic Galloway goes a step further: "Leith Walk could be Edinburgh's La Rambla. The pavement has already been widened and it's becoming a bustling boulevard that soars down to the sea. This is now the place to go out in Edinburgh."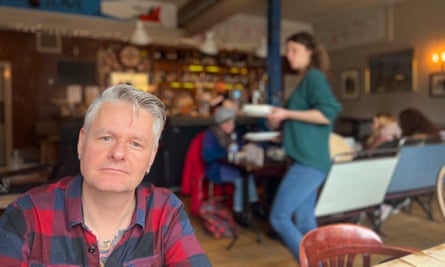 We have lunch in Leith Depot, a cultural hub, restaurant and gig space earmarked for flats until the community intervened. Galloway is on the decks at new monthly residency Vitamin C, but he's not alone. "Leith is bursting with musical creativity," he says. "Young Fathers live here and their new album was recorded in Leith. Edinburgh's Hamish Hawk just recorded his new album at Leith's Post Electric Studio, where hot new tips Redolent recently finished their first album. Another superb new talent is multi-instrumentalist Callum Easter."
As we stroll down Leith Walk, past the new second branch (after Easter Road) of fine booze emporium Cornelius, I ask if there is a danger Leith could lose its soul. "I don't think anyone wants Leith to change to the point that local people can't afford to live here," says Galloway. "Take Leith Depot – you can get a decent pint and good food without bankrupting yourself. I hope Leith has learned the lessons of East Berlin and Montreal, which changed too quickly and lost something. Here, people haven't been forced out. In my stairwell there is a real mix of people: new creatives alongside lifelong Leithers."