June 6, 2023

Web Editor

0
Rise of the tourdrobe: how Beyoncé's gigs are the new designer catwalk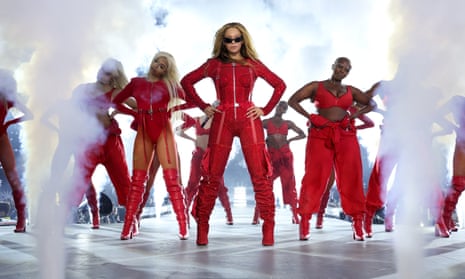 rom underneath a giant screen of rolling, pink, fluffy clouds and a plume of grey mist, Beyoncé slowly ascends on to her Renaissance stage. A month into her global tour – her first in seven years – the first outfit has been different each night.
There's been a crystal-embroidered Alexander McQueen bodysuit in Stockholm, a glittering silver Paco Rabanne mini-dress in Paris, a floor-sweeping Valentino ivory gown in Cardiff, and last week in London, a bright blue, wired skirt from London-based designer Roksanda Ilinčić. The dazzling looks keep coming throughout the concert – with glittering fringing, sequinned thigh-high boots and holographic prints just a few of the many highlights.
The Freakum Dress singer's outfits aren't just another way to wow her fans over a three-hour gig, however. They are part of a wider trend in fashion. The "tourdrobe" – what a star wears on their tour – is becoming the new catwalk show.
Other modern megastars back up this change. Taylor Swift, currently on the US leg of her Eras tour, has had numerous costume changes, working with brands including Versace, Roberto Cavalli and Etro, with Ashish T-shirts featuring lyrics from her songs. Such is the popularity she opened an exhibition of the outfits in New York last week. Harry Styles has worn custom-made outfits by Gucci on his Love on Tour shows, including some from his own Ha Ha Ha collection with the brand.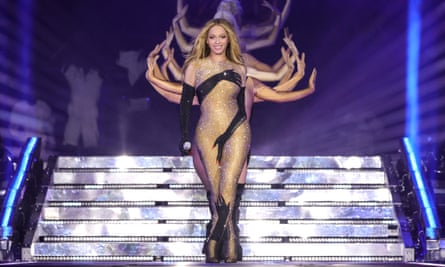 Those attending concerts are adapting their outfits accordingly. Videos on TikTok show fans making their own version of Beyoncé's Loewe jumpsuit with handprints. For the final leg of Love on Tour shows, Styles fans are customising outfits. Hobbycraft reports page views of its watermelon iron-on patch has increased by 54% in the run-up to the Watermelon Sugar singer's tour dates in May. Swifties, meanwhile, are sharing their outfits online: #erastouroutfits has had 692 million views on TikTok.
Fans have long copied what their idols wear – from the Beatles' haircuts in the 1960s to TLC's dungarees in the 1990s – and the Jean-Paul Gaultier conical bra Madonna wore for her Blonde Ambition tour in 1990 foreshadowed the current moment. But the increased focus on what music stars wear on stage is a recent occurrence.
"People are taking in these moments with a level of enthusiasm that probably exceeds what it was pre-pandemic," says Tiffany Ap, senior correspondent at the Business of Fashion, who has written about the tourdrobe phenomenon. "Because people have been denied live entertainment experiences for an extended period of time, they're savouring it that much more."
For fashion brands, the benefit is significant. "A huge amount of people are exposed to that dress immediately," says Ilinčić, whose skirt Beyoncé wore last week. "And then through social media, the message gets amplified throughout the world. I have had congratulations from friends and family of the brand and people that I never even spoke with."
David Koma, who created two looks for the Renaissance tour, agrees with this. "The visibility is incredible," he says. "Social media mentions, digital and print articles, and word of mouth – there's an immediate rise in interest."
Beyoncé works with a big team, and many stylists (Karen Langley and Julia Sarr-Jamois in London), and has demands way beyond event dressing. "[The outfit] needs to be visually delicate but also incredibly durable … It needs to be easy to put on and take off when time is of the essence," explains Koma. "You also have to consider layers and being able to remove outer pieces without losing the magic."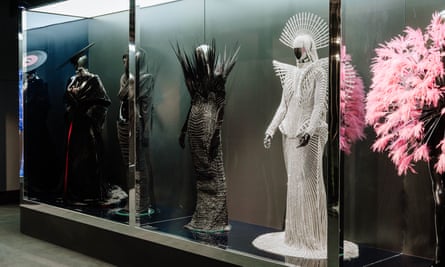 These moments translate to sales, with a mesh print dress – the design closest to a piece that Beyoncé wore on stage – sold out the day after the gig. But it is fast fashion retailers such as Shein or Cider that are the biggest winners. "[They] can, for an incredibly accessible price, probably no more than $20, get [items] into the hands of a global customer very fast. They can meet the demand while it's still hot and be a part of the conversation. If you can get a similar vibe within a week or two, fans will still want it."