August 1, 2023

Web Editor

0
Get ready skygazers: August to mark supermoon duo with rare Blue Moon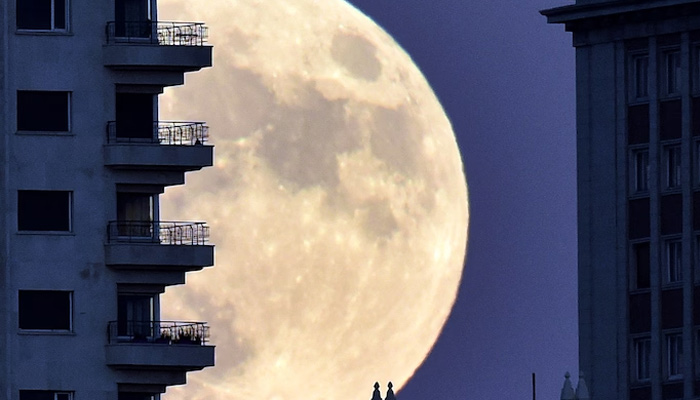 This August will be a memorable month for the sky gazers as it features a double lunar event.
Those who look for the celestial bodies should get their telescopes ready as this month starts with a full supermoon, set to rise tonight, and a rare Blue moon to be witnessed at the end of August.
A Sturgeon Moon is expected to light up the skies tonight (August 1) in different parts of the world, including the United States and Saudi Arabia.
According to USA Today, a full supermoon is set to rise less than 226,000 miles (363,300 kilometers) from Earth tonight, providing a breathtaking sight of an extra bright and big moon.
Pakistani space scientist Dr Jawed Iqbal said that tonight, the moon will appear 14% bigger and 30% brighter than usual.
The cosmic combo will take place when the moon will reach its peak illumination at 2:32pm ETD Tuesday, according to the Old Farmer's Almanac.
"After sunset that evening, turn your gaze to the southeast to catch a glimpse of the rising sturgeon moon," USA Today said.
In Makkah, tonight's supermoon will peak at 9:30pm local time, said Majed Abu Zahra, president of the Astronomical Society in Jeddah.
What is a supermoon?
A perigean full moon, better known as a supermoon is a phenomenon that takes place when the moon's orbit brings it closer to the Earth than usual.
NASA describes the event's occurrence as when a full moon appears within 90% of its closest approach to Earth in its orbit, or its perigee.
This gives its appearance an extra pop, making it look up to 8% bigger and 16% brighter than a typical full moon, according to The Old Farmer's Almanac.
As per USA Today, the Sturgeon Moon was named for the large fish in the Great Lakes, which were most easily caught at this time of the year.
A lunar double
The Supermoons usually happen three or four times yearly, but this month is special as the phenomenon will occur twice.
A supermoon recurring in the same month is a rare event and is named Blue Moon. So we know why the term "once in a blue moon" is used as an idiom to describe a rare but nonetheless recurring event.
A rare Blue Moon will be among the two celestial events taking place in August, USA Today said.
On August 30, the moon will be the biggest and brightest of 2023 because of its "exceptionally close" proximity to Earth at 222,043 miles, according to Farmer's Almanac, which is nearly 17,000 miles closer than average.
The super Blue Moon's peak intensity will be closest to sundown in the United States.
And, if anyone misses August's super Blue Moon, they will have to wait nine years to witness it again.
However, the Blue Moons aren't actually as rare as that since they recur every two and a half years or so, according to NASA.
A Blue Supermoon, however, happens far less frequently than usual supermoons, with the last one taking place in December 2009.
According to Time and Date, the next Blue Moon won't be until August 2032.