April 3, 2023

Web Editor

0
Thailand's extreme air pollution: 'I feel sorry for my daughter'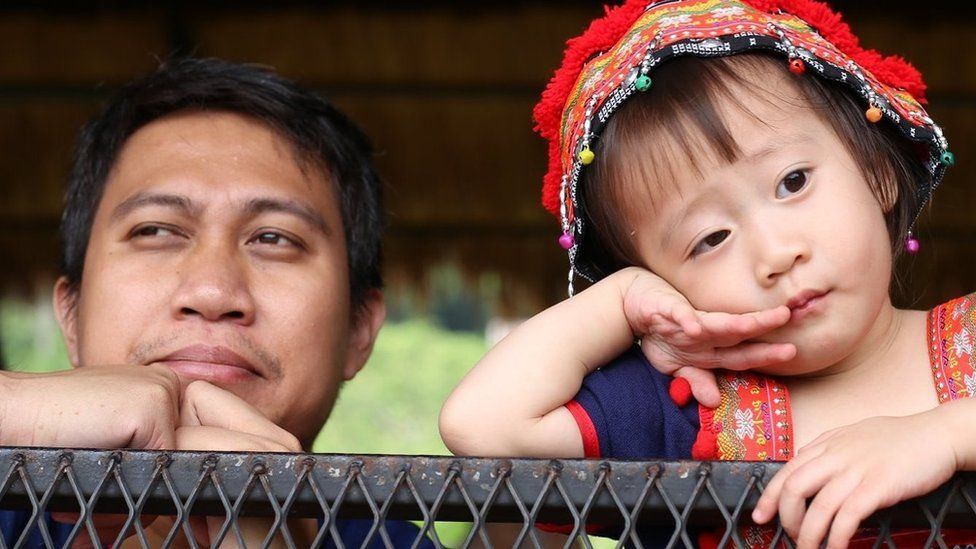 For the past few weeks, Thommamoon Khowasat has painstakingly explained to his four year-old daughter that the yellow cloud they see outside their window – which has tickled her imagination – is actually a danger to her health.
It's a scare that has gripped northern Thailand where millions of people are currently finding it harder to breathe.
Widespread farm burning and forest fires have created a smog that's even thicker than usual, which is choking communities and exposing them to respiratory disease.
In the tourist-favoured Chiang Rai province, and even the capital Bangkok, people have been on edge checking the air quality levels every day.
"I feel very sorry for my daughter," said Thommamoon, who has not seen haze this thick in the 20 years he has lived in Chiang Rai.
"As a child she doesn't know. She thinks that it's natural fog. But the truth is a poisonous mist."
The girl is under strict orders to stay at home, but even indoors and with an air purifier whirring away, the air quality is compromised.
At Chiang Rai's Mae Chan Hospital, Dr. Veera Isarathanan fears for newborns who are exposed to the air pollution. Babies can't wear face masks, and even with a purifier machine, the air in the nursery can be hazardous.
"[It's sad] newborn children have to encounter pollution like this. Their lungs are just starting to work," Dr Isarathanan said.
Thailand's air pollution is an issue year each year in the dry season – which typically runs from November to March – mainly due to seasonal burning from farmers clearing their sugarcane and rice fields.
But the smog has been particularly bad this year.
On 10 March, Thai health authorities reported that in the first nine weeks of the year, more than 1.3 million people had already suffered air pollution-related diseases.
Nearly 200,000 of these cases were reported in the first week of March – when the haze had started to worsen.
In Chiang Rai, the haze has grown so thick to obscure its famous mountains, and what is usually lush, green foliage appears grey.
Drone footage passing over the city's parks and streets show them near unrecognisable, with buildings reduced to smoky outlines.
The levels of the hazardous PM 2.5 particles have also soared – these are particles are small enough to be be breathed into lungs and even enter bloodstreams.
Exposure to PM 2.5 dust can cause burning and itching in the eyes and skin, as well as coughing and chest tightness. These symptoms can be amplified for those who have pre-existing heart or lung conditions.
In Chiang Rai, fire trucks were this week deployed to blast water into the air to clear the dust. But it's only a short-term measure.
Authorities have warned that the grim scenario will persist for the coming days, with few winds forecast that could blow the dust away.
On Monday, about 200 people in the Chiang Rai district of Mae Sai protested outside a local government office demanding authorities take action.
"Nowadays, Mae Sai people live in misery. Both young and old, living in hardship," said one of the demonstrators, Somyot Nittayaroj.
Somyot said the haze had gotten worse in the last two to three years.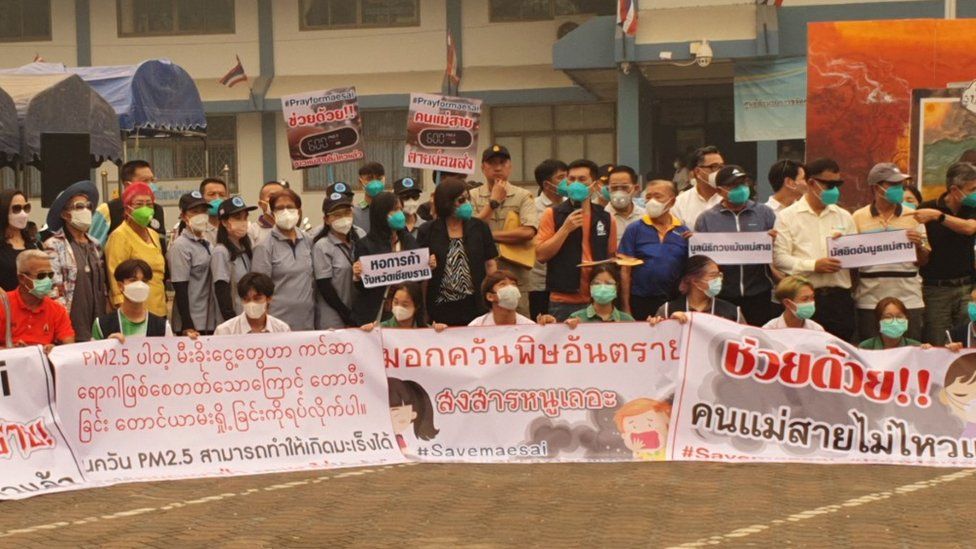 The day of the protest, the air quality in parts of Chiang Rai was nearly 125 times over the limit deemed safe by the World Health Organization.
Protesters said Thailand should negotiate with Myanmar and other neighbouring countries where agricultural burning has contributed to the smog.
Satellite data showed that many of fire hot spots were located in Myanmar, followed by Laos. Fires were also spotted in Cambodia and Vietnam.
However a majority of the pollution still comes from closer sources.
Prime Minister Prayuth Chan-ocha has directed lawmakers to go after perpetrators of forest fires and there are laws in place curtailing agricultural burning.
But the problem is most of these restrictions are ignored. For farmers, burning their plot is often the easiest and cheapest method to clear land.