July 15, 2023

Web Editor

0
Ashwin's spectacular performance seals India's dominant win over West Indies in first Test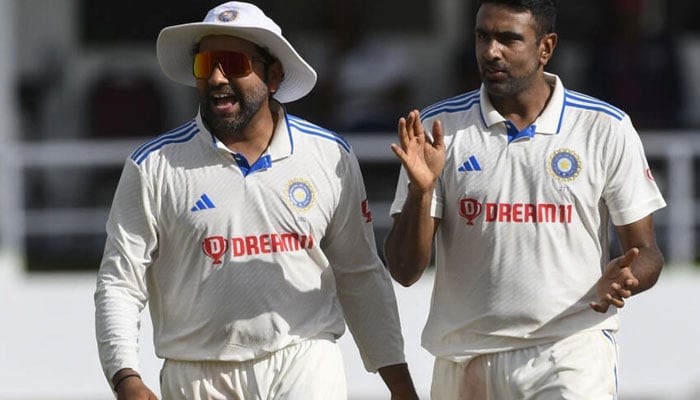 Indian spinner Ravichandran Ashwin showcased his brilliance with a sensational performance, leading India to a resounding win against the West Indies in the first Test match in Dominica.
Ashwin's exceptional display dismantled the West Indies batting lineup in both innings, ultimately resulting in an innings and 141-run victory for India.
In the first innings, Ashwin claimed an impressive five-wicket haul, setting the tone for India's dominance. He continued his relentless bowling in the second innings, capturing seven wickets for just 71 runs, marking his best overseas Test figures. Ashwin's remarkable effort earned him the well-deserved Man of the Match award.
Reflecting on his outstanding performance, Ashwin expressed his satisfaction, saying, "This experience has been a special moment. I used to think about playing for my country when I was young. It is an emotional moment for me but this is just the start." Ashwin's dedication and skill demonstrated his unrivaled expertise in the art of spin bowling.
The victory was not solely dependent on Ashwin's heroics, as debutant Yashasvi Jaiswal also played a crucial role in India's triumph. Jaiswal showcased his immense potential by scoring a magnificent 171 runs on his debut, earning praise from his teammates and the cricketing fraternity. Jaiswal's outstanding performance was acknowledged by his opening partner Rohit Sharma, who commended the young talent, saying, "Yashasvi played a sublime knock and showed great temperament. He has a bright future ahead."
India's commanding win was a testament to their overall dominance throughout the match. With this victory, India extended their unbeaten streak against West Indies to over 21 years. The comprehensive win also solidified India's position in the World Test Championship, earning them crucial points.
West Indies captain Kraigg Brathwaite expressed his disappointment with his team's performance, underscoring the need for improvement, particularly in their batting. Brathwaite remarked, "I didn't think it spun a lot early on; we just let ourselves down with the bat. Senior guys, starting with myself, have to lead the way. We have to use the bat more instead of our pads." The West Indies skipper acknowledged the need for the team's experienced players to step up and take responsibility.
Looking ahead, India will aim to continue their dominance as they prepare for the second and final Test match against the West Indies in Trinidad, starting on July 20th. With their exceptional form and strong performances, India will be eager to complete a clean sweep and further consolidate their position in the Test rankings.