June 1, 2023

Web Editor

0
Kosovo Olympic Committee seeks IOC disciplinary action against Djokovic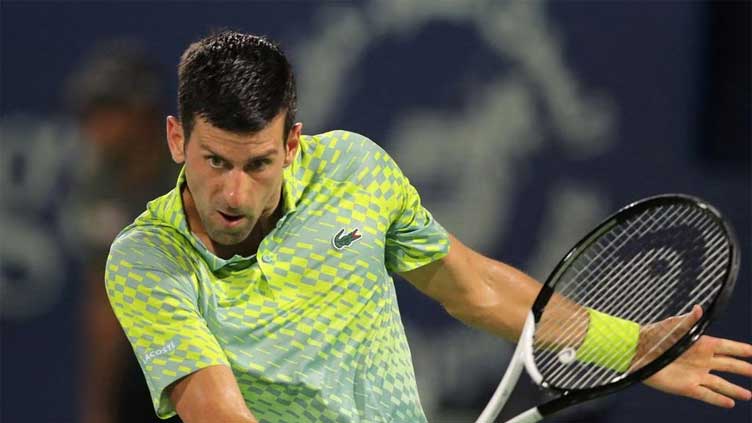 PARIS (Reuters) – Kosovo Olympic authorities have asked the International Olympic Committee (IOC) to open disciplinary proceedings against Novak Djokovic, accusing the Serbian of stirring up political tension by saying "Kosovo is the heart of Serbia" at the French Open.

Djokovic wrote the message on a camera lens following his first-round win on Monday, the same day that 30 NATO peacekeeping troops were hurt in clashes with Serb protesters in the Kosovo town of Zvecan – where Djokovic's father grew up.

Serbian authorities said 52 protesters were wounded in the clashes. The violence erupted after ethnic Albanian mayors took office in northern Kosovo's Serb-majority area following elections that were boycotted by the Serbs. World number three Djokovic later said he was against any kind of conflict but defended his statement.

The Serb is not set to face any punishment as both the French and international tennis federations have said that no Grand Slam rules were broken.

"Novak Djokovic has yet again promoted the Serbian nationalists' propaganda and used the sport platform to do so," Ismet Krasniqi, president of Kosovo's Olympic Committee (KOK), said in a statement.

"The further post-match statements made by such a public figure without any feeling of remorse, directly result in raising the level of tension and violence between the two countries," he added, urging the IOC to investigate by opening disciplinary proceedings against Djokovic.

The IOC, which bans any political statements on the field of play and at medal ceremonies at the Olympics, said it had no say on the matter as the Grand Slams had their own rules. "The French Open is run by the relevant Grand Slam authority and governed by their rules," an IOC spokesperson said.

"Only during the Olympic Games the players are under the authority of the IOC." The KOK's request had come a day after Kosovo's tennis federation accused Djokovic, 36, of using his status as a well-known personality to stir tensions.

French Sports Minister Amelie Oudea-Castera, whose country will host the summer Olympics in Paris next year, said Djokovic's message was "not appropriate, clearly".

"There is a principle of neutrality for the field of play. When you carry messages about defending human rights, messages that bring people together around universal values, a sports person is free to express them," she told French television.

"But in this case, it was a message that is very activist, that is very political. You shouldn't get involved, especially in the current circumstances, and it shouldn't happen again," she added.

'SPEAK FREELY'

Djokovic has courted controversy in the past including with his anti-vaccination stance during the COVID-19 pandemic.

As he prepared to play his second-round match later on Wednesday against Hungary's Marton Fucsovics, the International Tennis Federation (ITF) – the governing body of world tennis – said Djokovic's message did not violate Grand Slam rules.

"Rules for player conduct at a Grand Slam event are governed by the Grand Slam rulebook, administered by the relevant organiser and regulator. There is no provision in this that prohibits political statements," an ITF spokesperson said in an emailed statement.

Asked about the furore in Paris, Ukrainian player Elina Svitolina said the Serbian should have the right to express his opinion.

The Ukrainian 28-year-old, who has called for all Russian and Belarusian tennis players to be banned from international competition over Moscow's 2022 invasion of her country, said 22-time Grand Slam winner Djokovic could speak his mind.

"Well, we are living in the free world, so why not to say your opinion on something," Svitolina said after her second round win at the French Open. "I feel like if you stand for something, you think that this is the way, you should say. I mean, if you are with a friend sitting, talking, you're going to say your opinion, he is going to say his opinion. So why not?"

NATO, which has some 4,000 soldiers currently in Kosovo, will send 700 extra troops to curb violence and put another battalion on high alert as unrest has intensified.